Chapter 2 : Under the Mushroom Cloud
Takashi and Midori Nagai had to live apart from their two children during World War II. In June 1945, Dr. Nagai was found to be suffering from leukemia and given only three years to live. He had developed the disease as a result of occupational exposure to radiation.
This was only the beginning of tragedy. At 11:02 a.m., August 9, 1945, an atomic bomb dropped from an American B-29 exploded over Nagasaki and ssailed the city with a ferocious blast and blinding flash of light.


The Urakami Cathedral andStatue of Apostle St.Jon after the atomic bombing.
Dr. Nagai was in his office at Nagasaki Medical College, only 700 meters from the hypocenter. Despite his own illness, he had devoted himself to the care of the many people injured in past air raids.

The atomic wastel and in 1948. The ruins of Urakami Cathedral are visible in the background.
"The explosion of the atomic bomb came altogether unexpectedly. I saw the flash of light in the radium laboratory. Not only my present but also my past andfuture were blown away in the blast. My beloved students burned together in a ball of fire right before my eyes. Then I collected my wife, whom I had asked to take care of the children after my death but who now had become a bucket-full of soft ashes, from the burnt-out ruins of our house. She had died in the kitchen. For me, the injury to the right side of my body and acute atomic disease caused by the atomic bomb were added to my chronic radiation illness, disabling me far sooner than expected."
(from Kono Ko wo Nokoshite [Leaving These Children Behind])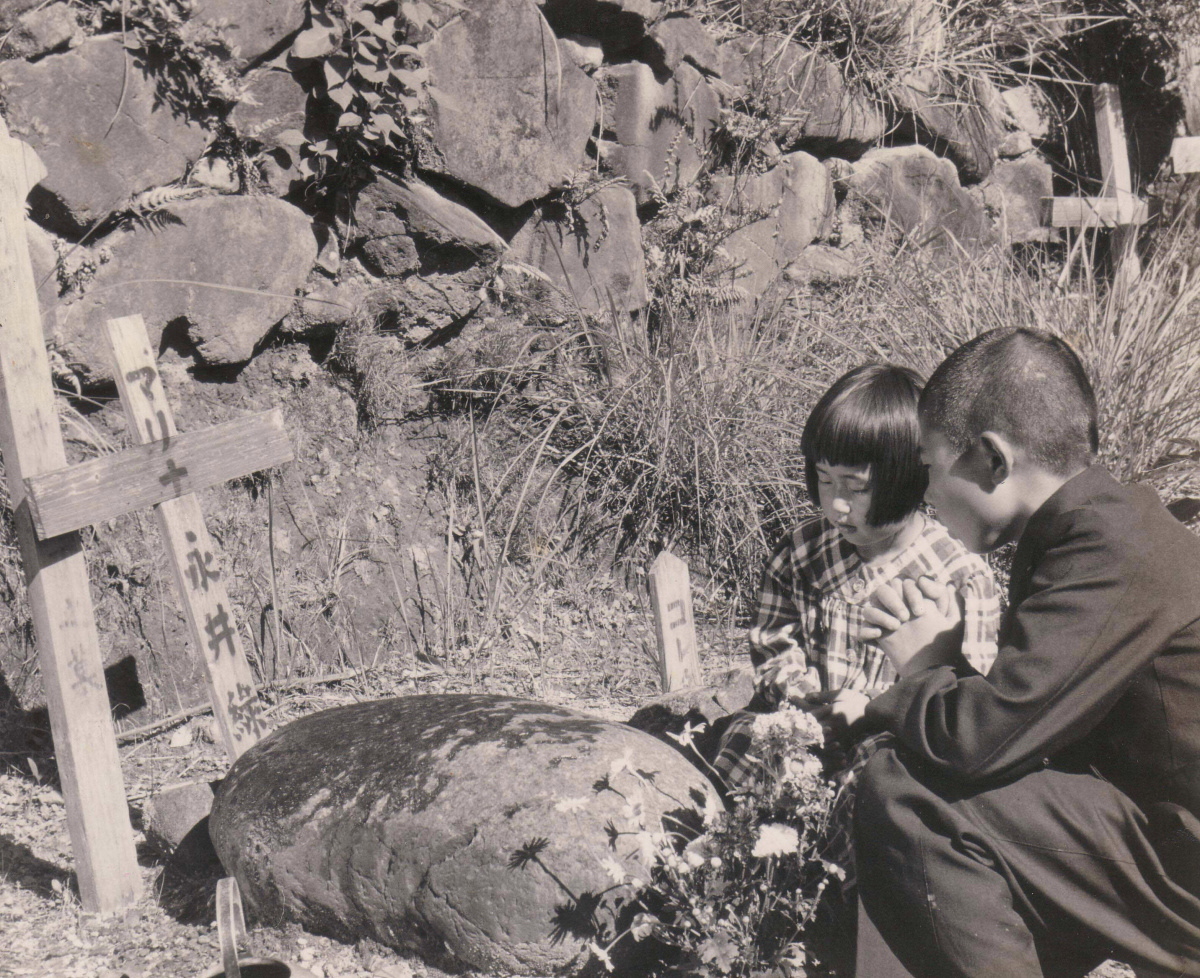 Makoto and Kayano pray at their mother's grave.